Delivering on Crypto Made Easy 
Over the past 5 years, we've worked tirelessly to execute our vision, one we have held since our ICO. While billion-dollar projects faltered, we remained true to the mission. With the recent update to Divi Wallet, creating a fully integrated crypto-ecosystem, we believe we've delivered the crypto-made-easy experience the industry was always missing. 
This doesn't mean Divi Wallet development will not continue, but rather the contrary. Divi Wallet will remain our flagship product, serving as an example to both clients and businesses. The functionality will continue to increase as we seek to stay ahead of the competition and remain the industry's easiest-to-use self-custodial wallet. What this roadmap shows is how our relationship with the industry itself is adapting, as we seek to make every aspect of crypto easy. Leveraging the experience gained over the past half-decade, we're excited to dive into Web 3.0 and the Metaverse. 
Blockchain is evolving. So are we.
The world of crypto now includes anything from digital ownership, to NFTs, and the Metaverse. This exists alongside traditional financial products and services and DeFi. We're incredibly excited to present to you our updated vision, as we look forward to the next 5 years. 
So here it is, our new roadmap!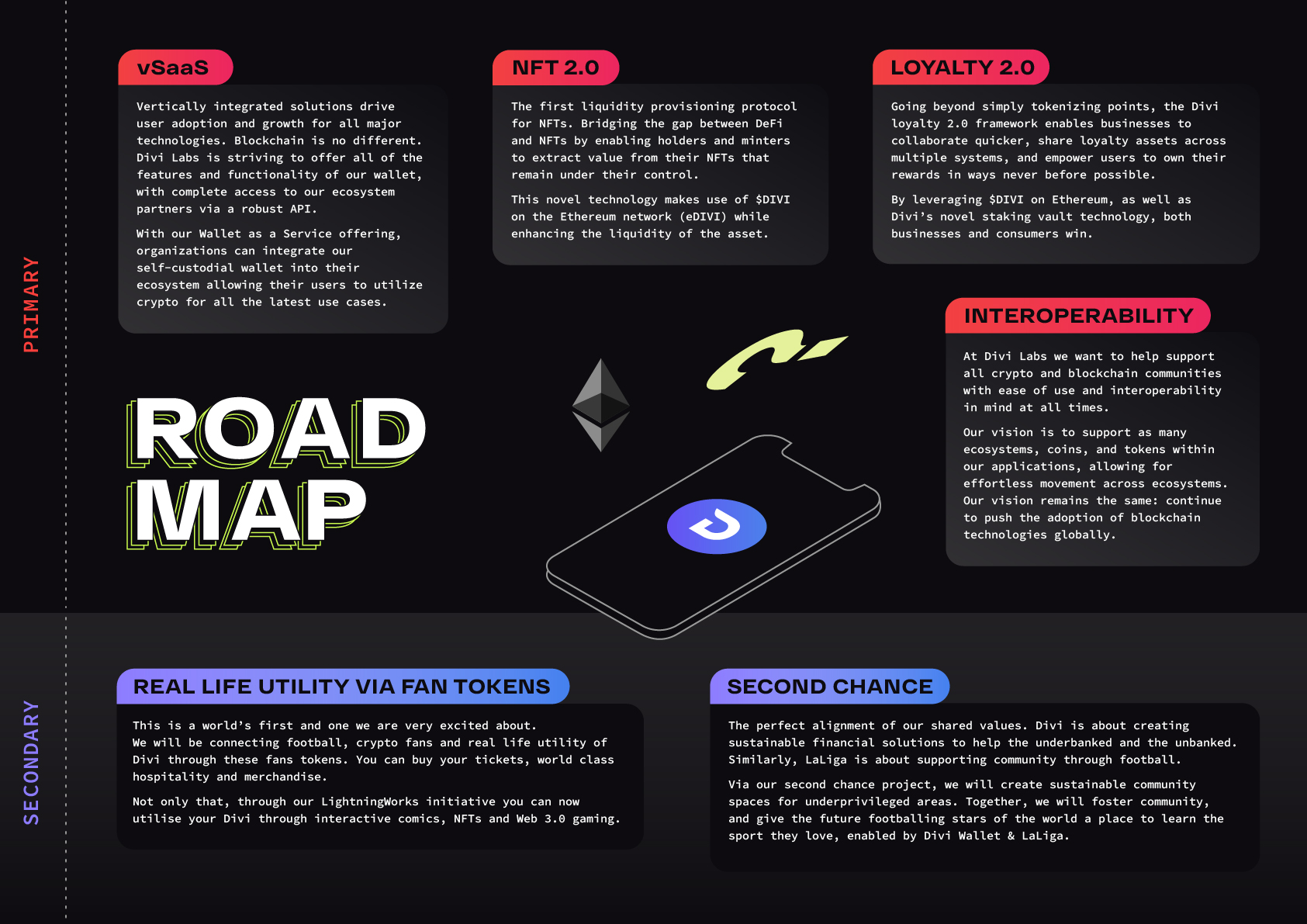 NFT 2.0: the next phase of digital ownership. 
The first liquidity provisioning protocol for NFTs. Bridging the gap between DeFi and NFTs by enabling holders and minters to extract value from their NFTs that remain totally under their control. This novel technology makes use of $DIVI on the Ethereum network (eDIVI) while enhancing the liquidity of the asset.
SideQuest: a new journey through the Divi ecosystem for brave adventurers.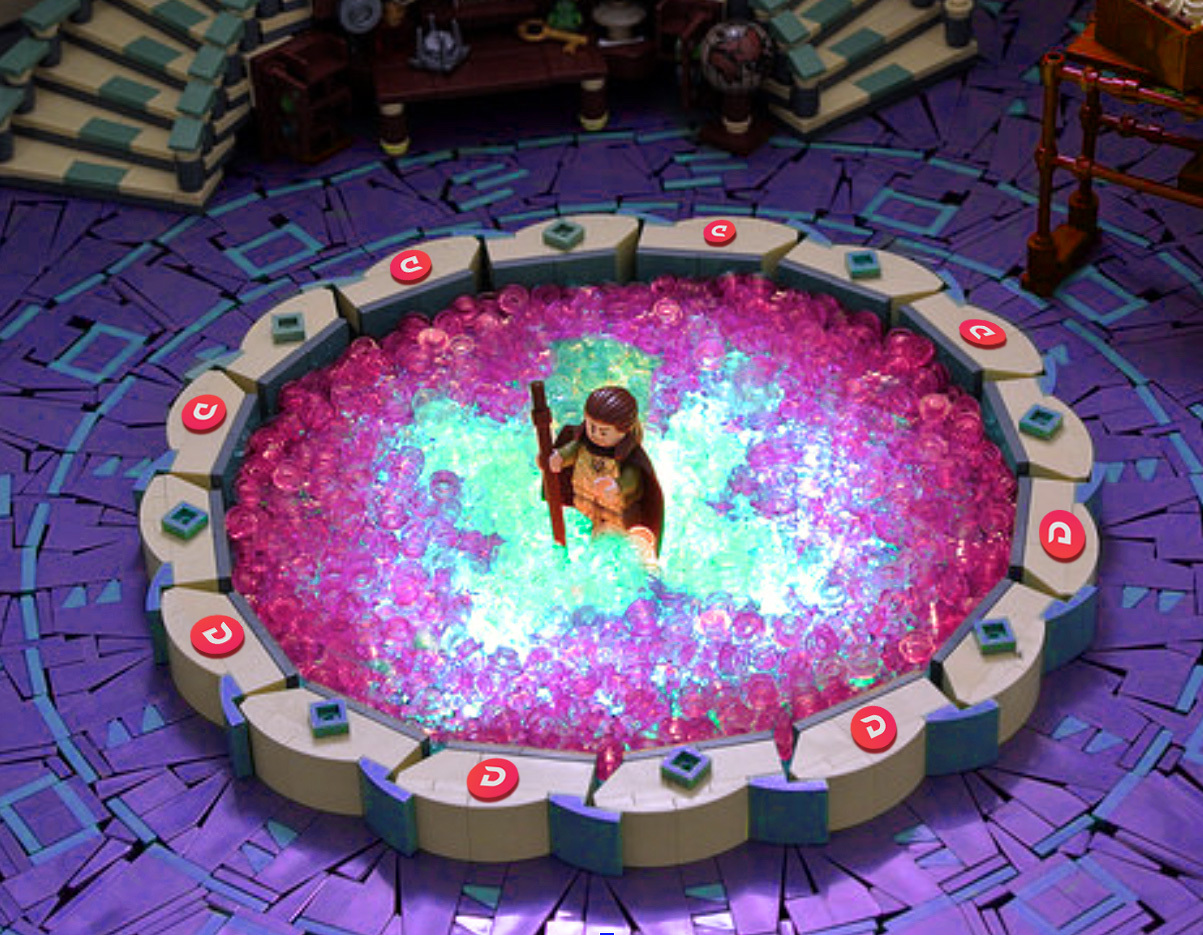 Embark on a legendary path to discover new worlds in NFTs, DeFi, and the Metaverse. Do you have what it takes to hone your skills and ascend to a new plane of existence? Many will attempt but few will make it. Join us on this epic quest... 👀
To stay up to date with SideQuest 👉 Follow Nick Saponaro
Loyalty 2.0: rewards that are truly yours. 
Going beyond simply tokenizing points, the Divi Loyalty 2.0 framework enables businesses to collaborate quicker, share loyalty assets across multiple systems, and empower users to own their rewards in ways never before possible. By leveraging $DIVI on Ethereum, as well as Divi's novel staking vault technology, both businesses and consumers win. We're in active conversation with companies both inside and outside of the crypto-industry. Watch this space.
Interoperability: cross-chain co-operation. 
At Divi Labs, we're here to help support all crypto and blockchain communities. Our vision is to support as many ecosystems, coins, and tokens within our applications, allowing for effortless movement across ecosystems. Our vision remains the same: continue to push the adoption of blockchain technologies globally. Expect continued coin integrations and use cases within Divi Wallet, as we open the doors to anyone and everyone.
Divi Wallet as a Service: vSaaS
Vertically integrated solutions drive user adoption and growth for all major technologies. Blockchain is no different. Divi Labs is striving to offer all of the features and functionality of our wallet, with complete access to our ecosystem partners via a robust API. With our Wallet as a Service offering, organizations can integrate our self-custodial wallet into their ecosystem allowing their users to utilize crypto for all the latest use cases.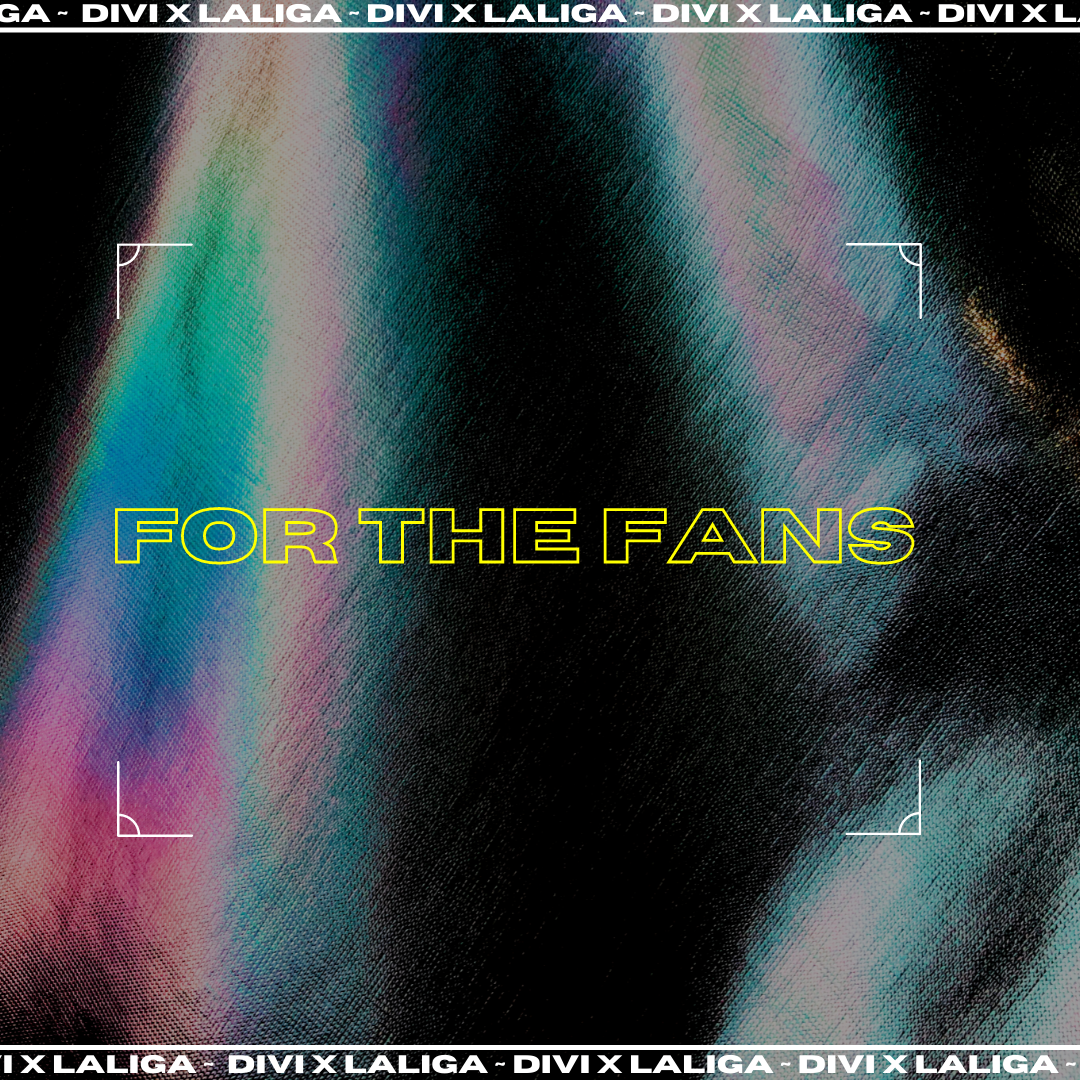 Real-life utility of crypto.
Bridging football and crypto together seamlessly via NFT ticketing and experiences. Imagine a future where football fans can purchase their season ticket or matchday experience as an NFT. This digital token not only gives you access to world-class hospitality at any match but the ability to earn rewards for your loyalty. This is an exclusive yet scalable opportunity, and we can't wait to see what our first full season has in store. With the World Cup in Qatar at the end of this year, we're well positioned to connect with a truly global audience.
Not only that, through our LightningWorks initiative you can now utilize your Divi via interactive comics, NFTs, and Web 3.0 gaming. You wanted real-life utility, and we are delivering on it.
Second chance: aligning our shared values. 
We are passionate about creating sustainable financial solutions to help the underbanked and the unbanked. Similarly, LaLiga is focused on supporting global communities through their footballing endeavors. Via our second chance project, we will create sustainable community spaces for underprivileged areas. Together, we will foster community, and give the future footballing stars of the world a place to learn the sport they love, enabled by Divi Wallet & LaLiga. 
What can our community expect?
You've probably noticed that these roadmap goals are broad. Any one of these may include multiple feature additions to Divi Wallet, or partnerships leveraging $DIVI. Over the coming months, we'll continue to release information on our strategic approach. We're already talking to brands and businesses who are excited to bring the benefits of blockchain technology to their clients. We're ready to help them build that future. 
All roads lead to $DIVI 
Our new roadmap broadens our focus and aids in the development of our ecosystem. Every move we make will enhance the utility of Divi. These can be split up into two key approaches:
Business to consumer 👉 We will continue to create seamless individual user journeys. By delivering an intuitive and flawless user experience, we will remain industry leaders in 'crypto-made-easy'. Ultimately our aim is to help people achieve their financial goals in a totally self-custodial and secure way. Success doesn't involve compromising on our core beliefs. 
Business to business 👉 By interacting with existing brands we become the crypto provider to established and loyal customer bases. Our goal will always be to help people along their crypto journey. By creating valuable partnerships, global brands are able to leverage our experience in the industry to deliver value to their existing user base. The goal is Crypto, Web 3.0, and NFTs for everyone. 
Learn how you can leverage blockchain technology for your business
We hope you're as excited as we are.